Showing 3 taxi or minicab companies in Fortuneswell, Dorset (DT5)
42, FLAXHAYES BRIDPORT DORSET
DT6 5DT
UK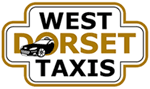 Airport Transfers
Large Luggage
Meet and Greet
CRB Checked Drivers
West Dorset Taxis are a Hackney Carriage Taxi service based in WEST DORSET but cover the whole of Dorset, East Devon or South Somerset.

We offer transfers to and thro from all major UK Airports, Seaports and places of interest at competitive prices. For the holiday maker we do a four hour trip any where they choose in Dorset for a meal, shopping or sightseeing or we will show them Dorset that the holiday-maker seldom sees.

Our saloons are licenced to carry four passengers and we can provide transportation 24 hours a day, 7 days a week.

Established since 1992, we have many years experience in the taxi/transfer sector, with the focus on providing reliable and inexpensive services to clients throughout the local area.

West Dorset Taxis are Licenced by West Dorset District Council and are HACKNEY CARRIAGE, Fully Insured and POLICE VETTED
Promote your taxi or minicab business here
You found this page and so will your customers. To advertise your business under Taxis and Minicabs in Fortuneswell, Dorset (DT5), please click the button to enter your details.
Advertise now!
7 Victoria Square, Portland, Dorset
DT5 2AY
UK
7 Victoria Square, Portland, Dorset
DT5 1AL
UK

5 Seaters
6+ Seaters
Open 24 Hours
Cards Accepted
Fixed Fares
Airport Transfers
Large Luggage
Meet and Greet
Baby and Child Seats
Female Drivers
CRB Checked Drivers
Business Accounts
Wheelchair Access
Valeted Cars
Chauffeur Service
Courier Service
Here you can add a description of your business. You can add up to 5000 characters (approximately 1000 words) which allows you to fully describe your business and the services you provide. This description will be stored in search engines and will help your clients to find you.
We advertise Taxis and Minicabs based in Fortuneswell, Dorset (DT5). You can get the telephone number, email and other contact details of a taxi or minicab serving Fortuneswell, Dorset (DT5) here. Most of the Taxis and Minicabs listed should have a description explaining the specific services that they provide. You may also find comments and recommendations on the listed Taxis and Minicabs from our other users, helping you to make the best choice!