Showing 4 taxi or minicab companies in Elephant & Castle Station, Greater London (SE17)
Vauxhall London
SE11 5LN
UK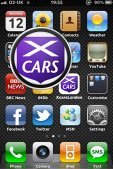 5 Seaters
6+ Seaters
Open 24 Hours
Cards Accepted
Fixed Fares
Airport Transfers
Large Luggage
Meet and Greet
CRB Checked Drivers
Business Accounts
Wheelchair Access
Valeted Cars
Chauffeur Service
Courier Service
Download our app for priority despatch and quicker booking times. Search for X Cars London in your app store. X Cars London is a private hire minicab company supplying a reliable, safe , clean and consistent service. All events catered for, all types of cars available. Feel free to get quotes and ask any questions, call us, book on the app or tweet us @xcarslondon. We look forward to serving you.
135 Mepham Street,Waterloo London.
SE1 8SQ
UK
Contact: David
Fax: 0207 620 1599

If you are in search of a taxi in Waterloo or South East London then look no further than Euro Mobile Cars. We are here to take care of all of your travel arrangements. Local and long distance specialists with a fleet of vehicle to reflect our premier service, make us you first choice for taxis in Waterloo.
Promote your taxi or minicab business here
You found this page and so will your customers. To advertise your business under Taxis and Minicabs in Elephant & Castle Station, Greater London (SE17), please click the button to enter your details.
Advertise now!
109 Elephant Road, London
SE17 1LB
UK
6 Camberwell Rd, Camberwell, London
SE5 0EN
UK

5 Seaters
6+ Seaters
Open 24 Hours
Cards Accepted
Fixed Fares
Airport Transfers
Large Luggage
Meet and Greet
Baby and Child Seats
Female Drivers
CRB Checked Drivers
Business Accounts
Wheelchair Access
Valeted Cars
Chauffeur Service
Courier Service
Here you can add a description of your business. You can add up to 5000 characters (approximately 1000 words) which allows you to fully describe your business and the services you provide. This description will be stored in search engines and will help your clients to find you.
We advertise Taxis and Minicabs based in Elephant & Castle Station, Greater London (SE17). You can get the telephone number, email and other contact details of a taxi or minicab serving Elephant & Castle Station, Greater London (SE17) here. Most of the Taxis and Minicabs listed should have a description explaining the specific services that they provide. You may also find comments and recommendations on the listed Taxis and Minicabs from our other users, helping you to make the best choice!