Showing 5 taxi or minicab companies in Frimley Station, Surrey (GU16)
13 Warren Rise
GU16 8SJ
UK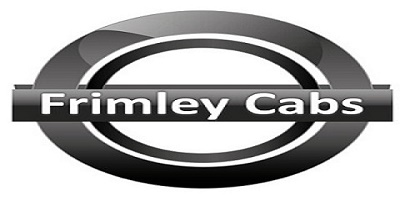 5 Seaters
6+ Seaters
Open 24 Hours
Cards Accepted
Airport Transfers
Large Luggage
Meet and Greet
CRB Checked Drivers
Business Accounts
Valeted Cars
A local Frimley based taxi company operating in and around the Borough of Surrey Heath.

Our drivers have an excellent knowledge of the area and are fully licensed, as well as having passed the relevant CRB security checks, in compliance with Surrey Heath Borough Council vetting procedures.

We are Royal Military Academy Sandhurst, pass holders. We also serve Pennyhill Park Hotel Bagshot, Mcdonald Frimley Hall Hotel, Aviator Hotel Farnborough, Village Hotel Farnborough, Lakeside International Frimley Green - Home of the BDO World Professional Darts, as well as Premier Inn & Travelodge Hotels. We provide taxis in Frimley Park Hospital, Royal Surrey Guildford, St Peter's Hospital, and other NHS trust hospitals.

We offer taxis in Bagshot, Bisley, Blackwater, Camberley, Crowthorne, Deepcut, Farnborough, Frimley, Frimley Green, Lightwater, Mytchett, Sandhurst, West End, Windlesham, Yateley and surrounding areas.

Our company ethos is based upon excellent customer service, punctual timing, professionalism, and we have an extensive fleet of modern vehicles to suit all your transport requirements.

Taxi to Heathrow airport, taxi to Gatwick airport, taxi to Luton airport, taxi to Stansted airport, taxi to London City airport, and taxis to all other UK airports & ports.
Promote your taxi or minicab business here
You found this page and so will your customers. To advertise your business under Taxis and Minicabs in Frimley Station, Surrey (GU16), please click the button to enter your details.
Advertise now!
29a London Road, Blackwater, Camberley, Surrey
GU17 0AB
UK
321 London Road, Camberley, Surrey
GU15 3HQ
UK
15a Compton Place, Surrey Avenue, Camberley, Surrey
GU15 3DX
UK

5 Seaters
6+ Seaters
Open 24 Hours
Cards Accepted
Fixed Fares
Airport Transfers
Large Luggage
Meet and Greet
Baby and Child Seats
Female Drivers
CRB Checked Drivers
Business Accounts
Wheelchair Access
Valeted Cars
Chauffeur Service
Courier Service
Here you can add a description of your business. You can add up to 5000 characters (approximately 1000 words) which allows you to fully describe your business and the services you provide. This description will be stored in search engines and will help your clients to find you.
We advertise Taxis and Minicabs based in Frimley Station, Surrey (GU16). You can get the telephone number, email and other contact details of a taxi or minicab serving Frimley Station, Surrey (GU16) here. Most of the Taxis and Minicabs listed should have a description explaining the specific services that they provide. You may also find comments and recommendations on the listed Taxis and Minicabs from our other users, helping you to make the best choice!